Cynical, silent hill obsessed, gaming, father of one with a ludrious love of Reptiles.
Takes very little seriously.

"Ewwww! a gamer"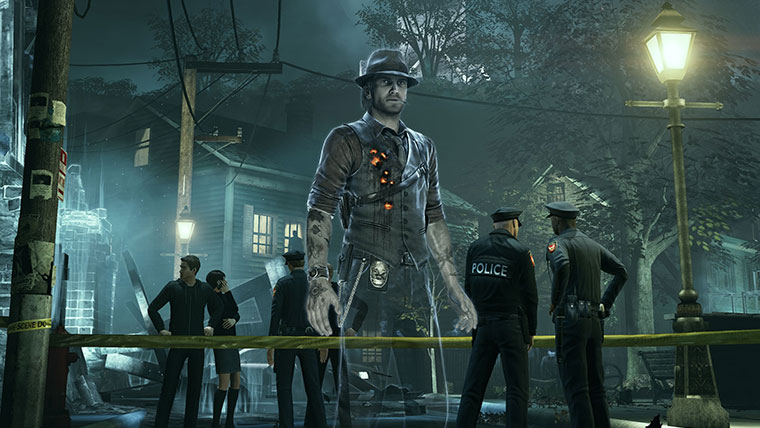 I have always been partial to the supernatural, it's not like I believe in any of it but I do have a special place in my blackened heart for ghost stories and the like. So when I first heard about Murdered: Soul Suspect I must say I was excited but I know better than to pin my hopes on pre-rendered trailers, that being said I went out and bought it when it came out like a good little lamb. So gaze with me into the crystal ball and let us see if this title is worth your hard earned cash.
Story
First thing you will notice is our star Ronan is covered in tattoos, each one seemingly represents an event in his life such as his "cheated death" one to show he cheated death, his burning spade symbol to show some sort of gang affiliation and the tramp stamp on his lower back making him the property of a burly bear named graham…okay that one is a lie. My point is his ink tells a story; even when that story takes a romantic turn his tattoos reflect this, he covers his old ways and inks a fresh new straight and narrow path of happiness and peace with his new wife Julia. A few strings even get pulled by Ronan's brother-in-law (Rex) who lands him a job at the local PD, not as a janitor either as a fully fledged cop. I guess Salem, Massachusetts PD human resource department forgot to do a background check and he just breezed in, even lands a promotion to detective. All doesn't stay so rosy for him when his wife sadly dies, but he continues to provide justice for his home town until he can be reunited with her again. Sadly our star's undoing comes with his own tenacity when he becomes obsessed with hunting down a serial murderer known only as the Bell Killer, who is plaguing the town of Salem by killing in very unusual but somewhat familiar ways.
With no leads his chances of catching the inventive maniac seem slim but Ronan finally catches a break and a lead points him to the killer's whereabouts. Racing to the scene (without back up, like a genius) Ronan finds the suspect and moves in for the arrest, it becomes immediately apparent this is no run of the mill lunatic, he displays inhuman strength, beats Ronan and promptly hurls him through the window sending him plummeting to the street three story's below. (Note: it is here, in Ronan's cinematic fall to earth that all the information I explained above is shown in the medium of epileptic fit inducing flashes). The killer is also nice enough to walk down to the street and shoot Ronan seven times through the torso just to make sure he is good and dead.
He is where we get to the crux of the tale, you witness your final seconds in Ronan's spirit form and before you can cross over to the other side and into the bosom of your dead sexy wife you have to deal with the old Casper chestnut, unfinished business. Obviously Ronan's to do list is made up of nothing other than catching the Bell Killer. Ronan soon realises he will not get far in this investigation in his ethereal form, even though it comes with perks apparently he needs a sidekick (don't all stars nowadays). Luckily it's not long before you meet Joy, a young medium who is looking for her mother. The pair decided to team up and set out to save Joy's mother and catch the Bell killer together in an interesting story span both sides of deaths veil! Once get I over sell but it is pretty good if you are into ghost stories anyhow.
Presentation
The graphics in Murdered: Soul Suspect are by no means ground breaking but are not so abhorrently bad that they detract from the experience in any way. The models are well designed and the voice acting is particularly good, characters seemed engaged in actual conversation rather then sounding like they were reading from a script, I found this refreshing and made a very speech heavy game nice and easy on the ears.
The music is also very well done, the ambiance suits the scenes perfectly and compliments the visual style of the game really well and I personally will be seeking out the soundtrack to this game.
I think what can be difficult in stories such as this is getting the environment right but once again I am left impressed and even charmed by how the town is depicted. It's easy to define the difference between the living world and the limbo which Ronan inhabits, this doesn't sound like a big deal but it's not as simple as adding a misty filter to the camera to show you that your are in Ghost land. These two plains of existence are seamlessly intermingled with one another. By this I mean you will be seeing modern buildings as they stand in the present living world but you will also see ghostly remnants of the town as it was when the witch trials were happening. This peek through the veil is a treat to see, the chalk ritualistic symbols on the walls of houses, the spectral ship wrecks washed up on the shore and the remains of ghostly burning homes stand out starkly to the none corporeal population but invisible to the living, who walk through them oblivious to the history which surrounds them.
Gameplay
As positive as I have been so far I am afraid things aren't quite as charming in the gameplay department, let's go with the positives first. As a ghost you have a few tricks at your disposal, all of which work well and weren't over used. Possession is the power to leap into a living person and whilst you cannot directly control them you can influence their thoughts and actions, for example a witness to Ronan's murder can't quite recall what she saw so you jump in and effectively place a thought into her head, thus pointing the police in the right direction. Once you have jumped into a person you can hear their thoughts which are interesting but add nothing more than flavour text in most cases. Internal walls hold not boundary over you so you can freely roam from room to room, the completionists among you will want to explore every nook and cranny to find the level specific collectibles, the incentive behind which is being treated to a dramatic reading of a ghost story pertaining to each locales history, they're quite nicely written and well read so give them a look if you can.
Other diversions come in the form of fellow specters asking for your help in piecing together there unfinished business. I found these quite an easy and fun diversion and added a welcome slice of extra content to the game, especially as these scenes are well written in themselves.
Now we come to the bad points, combat mechanics for starters are strange not different but downright strange. Some areas will have "bad spirits" called Demons, wandering within and you must sneak up on them in order to perform a quick time "take down" style exorcism, should you be detected by one of these demons you have to flee and hide in designated spiritual hiding places for around 30 seconds before you can try again. While this isn't a game breaker for me it just felt shoe horned in to add a little bit of peril, this story can easily stand up on its own and I don't feel it needed this gimmick.
Finding relevant clues in order to answer a question can be a bit of an issue, it's not that they are heard to find it's just that sometimes you do not think check a particular open police file twice or hit the action button on a closed window to determine that its locked. Clues blend in a little too well but with some persistence they can be found. Progression is locked by a lingering question and you must find the answer before you can move on, sometimes the answer will have multiple parts to it and the order is important, I found guessing and/or trial and error got me through these rather than any true deductive logic like the questions in "Condemned 2" did for example.
Conclusion
Whilst its gameplay isn't its strong suit Murdered: Soul Suspect plays well enough and is worth checking out if you are feeling the sting of the summer dry spell in gaming. Great scenery and an engaging story make this game a competitive choice on its own merits but I mainly enjoyed playing something that was a little bit different. I personally recommended for a nice spooky tale with some interesting twists to kill a few hours.
Review Overview
Score: - 7